The theme of this months SUSS Journal Club is Oral & Maxillofacial Surgery.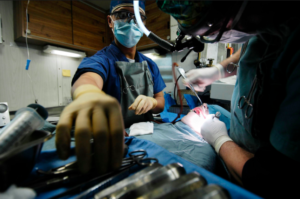 Oral & Maxillofacial surgery is a highly specialised field in which surgeons are trained in both medicine and dentistry to treat problems that require expertise in both fields. Conditions they treat include congenital facial disproportion problems, oral cancer, tumours of jaw and facial traumas.
Both speakers this month will be presenting papers on facial fractures. Our first study is a retrospective audit of mandible fractures at one UK hospital, looking at time to fixation and complication rates. Our second paper is a randomised controlled trial looking at treatment to restore sensory function following a zygomatic fracture.
Articles and presenters:
Justin Phang
Hammond, D., Parmar, S., Whitty, J., McPhillips, M., & Wain, R. (2018). Is a fractured mandible an emergency?. British Journal of Oral and Maxillofacial Surgery, 56(1), 39-42.
Gareth Crouch
Haapanen, A., Thorén, H., Apajalahti, S., Suominen, A. L., & Snäll, J. (2017). Does Dexamethasone Facilitate Neurosensory Function Regeneration After Zygomatic Fracture? A Randomized Controlled Trial. Journal of Oral and Maxillofacial Surgery, 75(12), 2607-2612.
Date: Thursday, March 22nd, 2018
Time: 6:00 – 7:00 pm
Venue: RPAH Institute of Academic Surgery
Topic: Oral & Maxillofacial Surgery.

Hope you see you there!