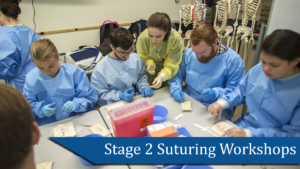 SUSS is running a series of workshops to help students acquire basic suturing skills. The workshops are at aimed at the beginner level, focusing on simple interrupted suturing technique, with the opportunity to try more advanced techniques upon mastery, as per the RACS competencies guideline. Attendance at the workshops will incur a cost of $2 to help cover the cost of the suturing materials.
There will be a total of six 1-hour sessions run across two days with each session capable of accommodating up to 10 students. Due to the limited spots available and the tendency for these workshops to be oversubscribed, we ask that students only sign up for workshops on dates they are CERTAIN they are available. It isn't fair to those who miss out on a place when we have empty spots during the workshops due to no-shows. If you do have to pull out from your allocated session, timely notification is appreciated and will allow us to reach out to students who are next in line.
Please register via Google Docs
When: Saturday 7th and Saturday 14th October 2017
Cost: $2
Once we have finalised the sessions, you will receive an email notifying you of your allocated session and any further instructions for the day.
For some learning resources, please visit our surgical skills page prior to the session