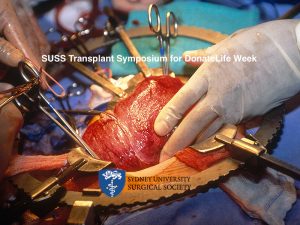 SUSS is proud to host a Transplant Symposium as part of its DonateLife Week activities. We will hear from four speakers on different aspects of the transplantation process:
Mr Max Mohr, Liver Transplant Recipient
Dr Nudrat Rashid, Intensive Care Specialist and Director of Organ and Transplantation Unit at Royal Prince Alfred Hospital
Dr Jonathan Karpelowsky, Staff Specialist in Paediatric Surgery at The Children's Hospital at Westmead
Dr Jerome Laurence, Upper GI, Hepatobiliary and Transplant Surgeon at Royal Prince Alfred Hospital and Chris O'Brien Lifehouse
All are welcome to come along and hear about organ and tissue donation and transplant medicine and surgery.
Date: Wednesday, September 7, 2016
Time: 6.00 – 7.30 pm
Venue: KPEC Large Conference Room, RPA Hospital
Please RSVP on the Facebook event.