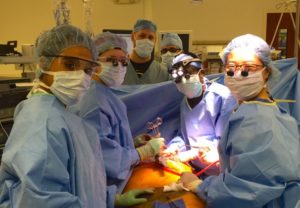 The theme of the October SUSS Journal Club is cardiac surgery.
Our first presenter is Aran Kanagaratnam (stage 1 SMP student), who will present a clinical trial comparing transcatheter (TVAR) and surgical aortic-valve replacements. TAVR is a new therapy for patients with severe aortic stenosis who are not candidates for surgery or who are at high risk for complications due to surgery.
Next Bronwen Needham (stage 2 SMP student) will present a systematic review of early outcomes in synchronous carotid endarterectomy and off-pump coronary bypass. Emerging evidence suggests that synchronous off-pump coronary artery bypass graft and carotid endarterectomy (OPCAB-CEA) is a viable alternative to performing the operations in stages, and that avoiding cardiopulmonary bypass (ie. performing the operation off-pump) may reduce the risk of perioperative stroke. For her MD Project, Bronwen is undertaking an updated Systematic Review investigating whether outcomes for patients undergoing this synchronous, combined operation off-pump are better than those for patients undertaking the same operation on-pump (CABG-CEA).
This is the last journal club meeting for 2017 so don't miss out.
Transcatheter or Surgical Aortic-Valve Replacement in Intermediate-Risk Patients.
Leon, Martin B., et al. (2016).
The New England Journal of Medicine, 374 (17): 1609-1620.
Synchronous carotid endarterectomy and off-pump coronary bypass: an updated, systematic review of early outcomes.
Fareed, K.R, et al. (2009).
European Journal of Vascular & Endovascular Surgery, 37, 375-8.
Don't forget to sign up to our Journal Club newsletter.